The Line & Roots style of maternity photography is similar to Lin & Jirsa's style of engagement photography. Our focus is on expressions and on capturing emotion with an attention to detail and creativity.  We strive to capture the love between the couple and their excitement for their new addition to the family.
Maternity Photography FAQs
When should I take my maternity photos?
We recommend that you schedule your maternity photo sessions when you are about 30-35 weeks or 7-8 months along. This way your belly will be noticeably round but not too heavy so that you won't experience any sort of discomfort.  Of course, there are exceptions to this generalized rule, so for more information on the timing of your maternity photos, including when to move the session date up, see this resource on "When to Take Maternity Photos."
What do I need to bring to my maternity photography session?
There are a few things we suggest you bring to your maternity session just to facilitate a smooth and comfortable shoot. Having some water and snacks on hand is always a good idea just in case you're feeling a bit tired. Be sure to bring a pair of comfy shoes to change into for casual photos and if, on location, a jacket or a sweater since some of the locations tend to become cooler as the session progresses. It is also very useful to have some touch-up makeup and hairspray with you.
What do I wear to my maternity photo session?
We are happy to announce that we have a beautiful selection of designer maternity gowns that you can choose from. Or if you wish, you can wear something of your own. When choosing an outfit to bring we suggest something tight and stretchy to show off your beautiful baby bump. We also suggest wearing a nude seamless strapless bra and nude underwear. Click here for more information on our Maternity Dresses for Photoshoots.
I see images with a sheer piece of fabric covering the body to show the shape and blowing in the wind, do you provide this?
Yes. The fabric in the images is usually silk and we have a few different color options to choose from.
What props should I bring to my session?
Props are not necessary, but they can be a great way to personalize your pictures. For instance, if you know the sex of your baby or the name you're going to use, you can bring colored balloons to announce the sex or blocks to spell out the name. Other great ideas are baby shoes, sonograms, etc. Click here for more Maternity Photo Props and Ideas.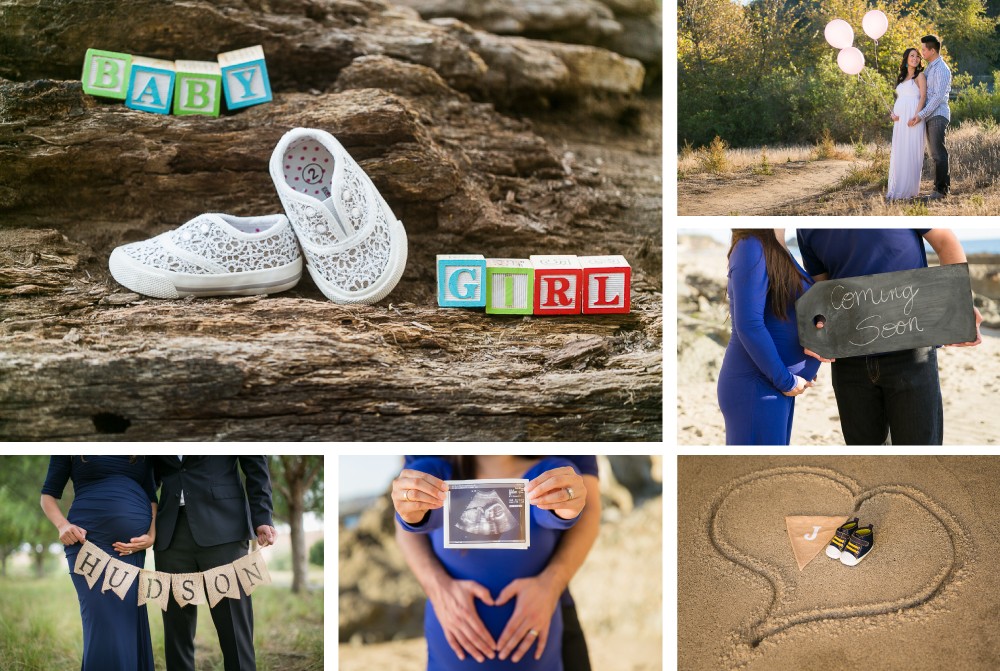 What are my maternity photography location options, and can we go to more than one location?
When you call in to book your session(s) we can advise you on where to go to get the look you want. Our maternity locations are typically parks and beaches. We keep maternity sessions to one location in order to maximize our time and to allow for a more comfortable experience for the mother-to-be. Please also be aware when choosing your location type that specific beaches require climbing up and down stairs, steep slopes, and sometimes rocks. Keep in mind the outdoor locations are always changing with the seasons/weather. See our recommended Orange County Maternity Photography Locations here.
Will any retouching be included to remove stretch marks?
All retouching is included in the price of the images that you purchase!  Please be sure to let us know if there are specific things you want to be retouched so that we can make note of that.
Where can I see your most recent maternity work?
We publish all of our Maternity Photography on our Blog. Click the following link to see our most recent Maternity Photography.